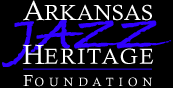 [ Arjazz | About | Home | Dates | Artists | Archive | Downloads | Hall of Fame ]
[ Facebook | Store | Ken Burns JAZZ | Board | Links | Donations | Memberships | Search ]



Home
Foundation Store
in association with amazon.com
AMAZON.COM Delivers
Ken Burns's Jazz Series

One of the biggest musical events was Ken Burns's highly anticipated Jazz series on PBS. Cowritten and produced by Burns, the creator of the acclaimed Baseball and Civil War series, the 10-part Jazz series captures the history of "America's music" from its New Orleans origins to the present day.

Check out Amazon, where you can see and buy Ken Burns products, including the music you hear during the jazz series.

We also thought you might like to hear what Ken Burns has to say about jazz and why he decided to create a series devoted to this uniquely American music.


Happy listening -

---

Ken Burns on Jazz

"For those of us engaged in trying to understand it, the history of Jazz turns out to be much more than a study of this extraordinary American music. Jazz has offered a precise prism through which so much of American history can be seen--it is a curious and unusually objective witness to the 20th Century. It is the story of two world wars and a devastating depression--the soundtrack that helped Americans get through the worst of times. Jazz is about sex, the way men and women talk to each other, and negotiate the complicated rituals of courtship; a sophisticated and elegant mating call that has all but disappeared from popular music in recent times. It is about drugs and the terrible cost of addiction and the high price of creativity. It is about the growth and explosion of radio and the soul of great American cities--New Orleans (where the music was born), Chicago, Kansas City, and New York (where it grew up). It is about immigration and assimilation and feeling dispossessed--and the music that came to the rescue. It is about movement and dance and showing your behind. It's about entertainment--the frequently dismissed but sacred communion between artist and audience. It's about solitude and loneliness and the nearly unbearable burden of consciousness. It's about suffering and celebration--it's hugely about celebration--and patting your feet.

"And Jazz is also a story about race and race relations and prejudice, about minstrelsy and Jim Crow, lynchings and civil rights. Jazz explores the uniquely American paradox that our greatest art form was created by those who have had the peculiar experience of being unfree in our supposedly free land. African Americans in general, and black jazz musicians in particular, carry a complicated message to the rest of us, a genetic memory of our great promise and our great failing, and the music they created and then generously shared with the rest of the world negotiates and reconciles the contradictions many of us would rather ignore. Embedded in the music, in its riveting biographies and soaring artistic achievement, can be found our oft-neglected conscience, a message of hope and transcendence, of affirmation in the face of adversity, unequaled in the unfolding drama and parade we call American history."

Read the complete text of Ken Burns' introduction to the series.


---

Quick Links to Ken Burns Jazz Items

Ken Burns Jazz: The Story of America's Music [DVD Box Set]
Our Price: $159.94 | You Save: $39.98 (20%)

Ken Burns Jazz: The Story of America's Music [VHS Box Set]
Our Price: $129.88 | You Save: $20.00 (13%)

Ken Burns Jazz: The Story of America's Music [CD Box Set]
Our Price: $41.98 | You Save: $17.99 (30%) 

Visit Amazon for a complete list of Ken Burns products, featuring our recommended CDs by artists featured in the series, episode guides, and more.

Please note that the price of the item featured above was accurate at the time this e-mail was sent. However, because our prices sometimes change, the price in the e-mail may differ from the price you see when you visit our store.

Copyright 2001 Amazon.com, Inc. All rights reserved.


[About our association with amazon.com]
[Ken Burns's Jazz | Hall of Fame | Books: [A-F | G-L | M-Z] | Special Order | Hard to Find | Amazon Delivers Jazz]
---
---
Arkansas Jazz Heritage Foundation · PO Box 251187 · Little Rock, AR 72225-1187 US · info@arjazz.org

Copyright © Arkansas Jazz Heritage Foundation. All rights reserved.
Information on AJHF and Jazz:
Comments on web site:
About this site. We appreciate those who have helped create this site.

URL: https://www.arjazz.org